About the card
Mastercard Voyager is a card connected with the Konto Walutowe account, maintained in the same currency. Thanks to the card, when paying in EUR abroad you do not have to worry about the current exchange rate and the cost of currency conversion. Moreover: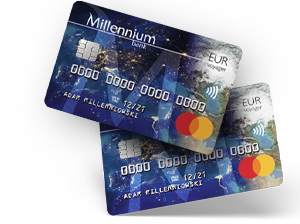 0 EUR for issuing the card

0 EUR for monthly card fee

0 EUR for cashless transactions*
---
* It does not apply to transactions carried out in outlets accepting the card marked as: casinos, internet casinos, games of chance, bookmakers, lotteries and totalizers.
Contactless payments

Fast and convenient payment method. Up to 100 PLN without PIN confirmation at the terminal. You can turn them off or on at any time in Millenet.

Complete safety

Attractive Pakiet Bezpieczeństwa (Safety Package) consisting of SMS Notifications service on transactions made by card and "Ochrona Karty" (Card Protection) insurance pack.

3D Secure

Guarantee of the highest security for your online card payments thanks to the service 3D Secure.
Fees
Fee for issuing card
0 EUR
Monthly fee for card service
0 EUR
Monthly fee for Pakiet Bezpieczeństwa service
0 EUR*
* The service is not obligatory

Details of fees are in the Price list.
How to apply
If you are our Client, order a card in Millenet.

If you are not our Client yet, please contact us.
How to restrict
Lost or stolen card should be restricted immediately. Call one of the special numbers:
+48 22 598 41 14
blocking all the cards of Bank Millennium (available 7/24)

(fee in accordance with the operator's tariff)
801 127 000
Prestige Line for fixed line calls and mobile
+48 22 598 41 33
Prestige Line for mobile and international calls