Zatrzymaj rotowanie bennrów
Investment relations
Financial and ESG report 2022

Bank Millennium Group Strategy – Millennium 2024 Inspired by people

Bank Millennium in the WIG-ESG index of socially responsible companies
Reports and presentations
Main financial highlights
Quarterly

Selected financial data for 4Q 2022 (xls format)
Ratings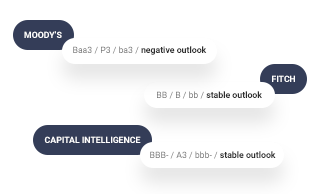 Ratings awarded by specialized independent rating agencies
Shareholders
Shareholders

Shareholders holding minimum 5% votes at the General Shareholders Meeting.

General Shareholders Meetings

The Shareholders Meeting shall be held in keeping with the procedures and on terms and conditions provided for in the Commercial Companies Code and in the Bank's Articles of Association.
Strategy and dividend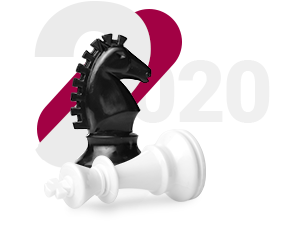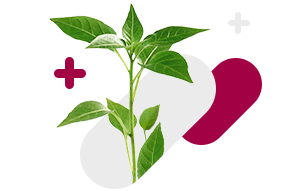 Bonds
Information on Bank Millennium S.A. bonds
On 30 January 2019 Bank Millennium S.A. issued, under the Third Bond Issue Programme, 1.660 subordinated bonds series W of the nominal value of 500.000 PLN each. Maturity term is 10 years. Repurchase date falls on 30 January 2029. Bonds have the ISIN code: PLBIG0000461 and are listed in alternative trading system on Catalyst at the GPW S.A. market and on the BondSpot S.A. market. Information Note with respect to series W bonds at the nominal value of 500.000 PLN each and the total nominal value of 830.000.000 PLN, containing, inter alia, Bond Issue Conditions is available on GPW Catalyst Web site: https://gpwcatalyst.pl/pub/CATALYST/files/dokumentyinf/NOTA_INFORMACYJNA_Millennium_seriaW.pdf- link otwiera się w nowym oknie
Please find below the current interest table.
EMTN Programme
Please read the disclaimer below. By selecting the option "Accept" below you will confirm that you have read the disclaimer and accept the restrictions contained therein.

THE MATERIALS CONTAINED HEREIN ARE NOT FOR RELEASE, PUBLICATION OR DISTRIBUTION, DIRECTLY OR INDIRECTLY, IN WHOLE OR IN PART, IN OR INTO THE UNITED STATES OF AMERICA (WITH ITS TERRITORIES AND POSSESSIONS, ANY STATE OF THE UNITED STATES AND THE DISTRICT OF COLUMBIA, COLLECTIVELY, THE "U.S."), AUSTRALIA, JAPAN, CANADA, OR ANY OTHER JURISDICTION WHERE TO DO SO WOULD CONSTITUTE A VIOLATION OF THE RELEVANT LAWS OR REGULATIONS OF SUCH JURISDICTION.

THE BASE PROSPECTUS AND THE FINAL TERMS (together, the "Prospectus") and any other information behind this screen has been prepared in connection with the EUR 3,000,000,000 Euro Medium Term Note Programme (the "Programme") of Bank Millennium S.A. with its registered office in Warsaw (the "Issuer"). The distribution of the Prospectus and such information and the offer and sale of the securities described in the Prospectus in certain jurisdictions may be restricted by law. Any persons reading this important information should inform themselves of and observe any such restrictions.

The Prospectus and any other information behind this screen do not constitute an offer of securities or a solicitation of an offer to purchase securities in the U.S. or any other jurisdiction. The securities described in the Prospectus have not been and will not be registered under the United States Securities Act of 1933, as amended (the "Securities Act"), or the securities laws of any state of the United States, or other relevant jurisdiction within the United States and may not be offered or sold within the United States or to, or for the account or benefit of, U.S. persons except in certain transactions exempt from the registration requirements of the Securities Act. Any forwarding, distribution or reproduction of the Prospectus in whole or in part is prohibited. Failure to comply with this notice may result in a violation of the Securities Act or the applicable laws of other jurisdictions.

---