Shareholders holding minimum 5% votes at the General Shareholders Meetings (as on 31.03.2017)
Shareholder
Shares
Votes
No
%
No
%
Banco Comercial Portugues S.A.
607 771 505
50.10
607 771 505
50.10
Nationale-Nederlanden OFE (former ING OFE)
115 000 000
9.48

115 000 000

9.48
Aviva OFE
65 984 000
5.44

65 984 000

5.44
Total no. of shares in company/votes
1 213 116 777
100.00
1 213 178 577
100.00
Common shares
1 share = 1 vote
1 213 054 977
99.99
1 213 054 977
99.99
Privileged shares
1 share = 2 votes
61 800
0.01
123 600
0.01
1 213 008 737 shares (code ISIN PLBIG0000016) are traded on the stock exchange. However the number of registered shares was 108 040, of which 61 800 are founder's shares, privileged so that one share entitles to two votes at the Annual General Meeting.
The share capital of the Bank Millennium S.A. (equal to the Group's share capital) is PLN 1 213 166 777 divided into 1 213 166 777 shares of PLN 1 par value each.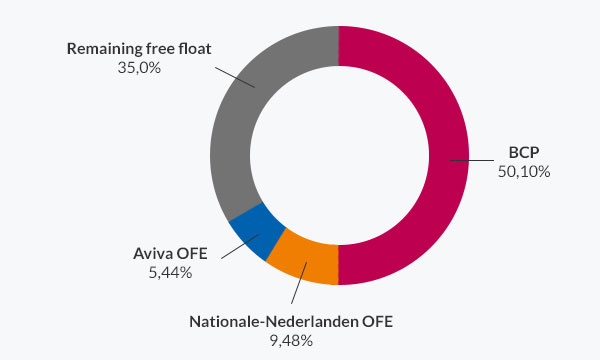 Information about share issues of Bank Millennium is presented below.
Share capital
Par value of one share = 1 PLN
Series/Issue
Share type
Type of preference
Number of shares
Value of series/issue
Registration date
A
registered founder
x2 as to voting
106 850
106 850
30.06.1989
B1
registered ordinary
150 000
150 000
13.06.1990
B2
registered ordinary
150 000
150 000
13.12.1990
C
bearer ordinary
4 693 150
4 693 150
17.05.1991
D1
bearer ordinary
1 700 002
1 700 002
31.12.1991
D2
bearer ordinary
2 611 366
2 611 366
31.01.1992
D3
bearer ordinary
1 001 500
1 001 500
10.03.1992
E
bearer ordinary
6 000 000
6 000 000
28.05.1993
F
bearer ordinary
9 372 721
9 372 721
10.12.1993
G
bearer ordinary
8 000 000
8 000 000
30.05.1994
H
bearer ordinary
7 082 129
7 082 129
24.10.1994
Increasing of par value of shares from 1 to 4 PLN
122 603 154
24.11.1994
1:4 split
122 603 154
5.12.1994
I
bearer ordinary
65 000 000
65 000 000
12.08.1997
J
bearer ordinary
196 120 000
196 120 000
12.09.1997
K
bearer ordinary
424 590 872
424 590 872
31.12.2001
L
bearer ordinary
363 935 033
363 935 033
26.02.2010
Total number of shares
1 213 116 777
Total share capital
1 213 116 777