Photog. Wojciech Wandzel, www.wandzelphoto.com
This year's challenge was the music composed by Frank Zappa (1940-1993), a US composer, guitarist, author of lyrics, an artist who moved freely between genres, breaking across established patterns and provoking everyone around. In the 1970's his band "The Mothers of Invention", which instead of melodious songs played their leader's elaborate compositions, for some had the status of extreme rock avant-garde and for others it was just a musical circus. Zappa provoked with his music, lyrics, bandstand formula, views and lifestyle. Revisiting his music and placing it beside the compositions of Penderecki or Lutosławski is a courageous proposal.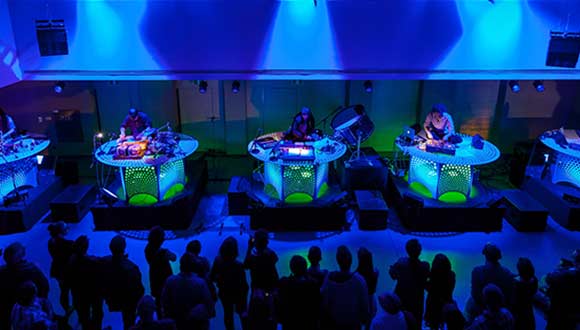 Photog. Wojciech Wandzel, www.wandzelphoto.com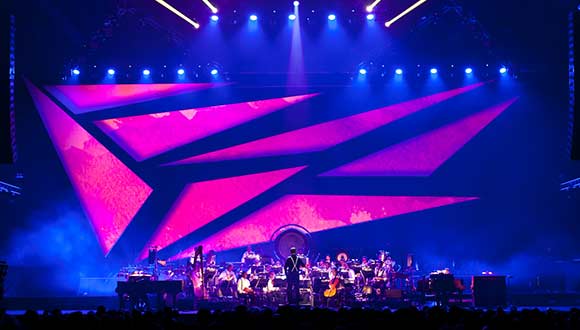 But it all started with "In C", composed by Terry Riley – an American classic of minimalism – being performed by a guitar orchestra (20 guitars, drums and organ) organised by two musicians from Portishead: Adrian Utley and Geoff Barrown. This was a concert, which showed how great freedom of interpretation and choice of artistic means of expression is made available to performers of contemporary classical music. What followed was just as good. After last year's success again a concert was held under the "Polish Icons" motto, this time devoted to the music of Witold Lutosławski on his 100th birth anniversary. Two compositions by the master were worked on by experimental electronic music artists: "Preludes and Fugue" and "Funereal Music".
Photog. Wojciech Wandzel, www.wandzelphoto.com
In the unanimous opinion of critics Sacrum Profanum is one of the festivals, which have elevated artistic remix to the rank of an art. Five performers – including the Polish Skalpel duo – tackled Lutosławski's music, presenting their own versions, and for the sake of comparison the Aukso orchestra, conducted by Marek Moś, presented the same pieces in classical form. All-in-all these performances created an expressive multimedia show, illustrating the various facets of the power of Lutosławski's music. And eventually Zappa for the finale. The Ensemble Modern orchestra from Germany had come across Zappa back in 1992 when after a few rehearsals they performed together at the Frankfurt Festival playing music from the composer's last album "The Yellow Shark" to the enormous applause of the audience. A longer relationship was brimming but the artist lost to his illness.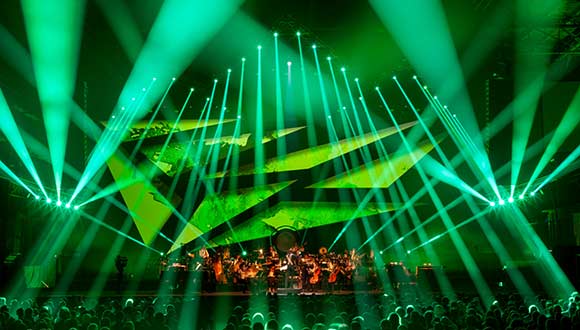 Photog. Wojciech Wandzel, www.wandzelphoto.com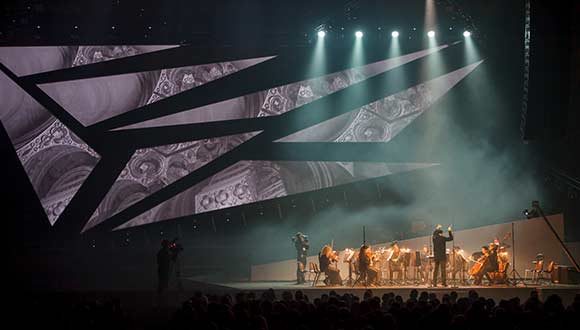 After his death the material written earlier and partly recorded was used to make the "Greggery Peccary and Other Persuasions" album. It was the music from these two albums that made up the finale concert of Sacrum Profanum in the tinhouse of Arcelor Mittal Poland steel mill, better known as Nowa Huta. The concert shed all doubts – the enfant terrible of the rock scene became a classic of contemporary music. A beautiful and clear sound and excellent arrangement have yet again unveiled all the advantages of Zappa's music, with the class of the performance being appreciated by the several thousand-strong audience. Once, responding to jibes Zappa said: (…) Why do you necessarily have to be wrong just because a few million people think you are (…). Today all the few million can do is to change their mind.
Photog. Wojciech Wandzel, www.wandzelphoto.com