Bank Millennium among the most climate-conscious companies
Bank Millennium received the title of "Climate-Conscious Company 2022" as part of the Climate Awareness Survey of Companies conducted on the basis of the content of reports for 2021. The Bank received 8.17 points and thus ranked 7th out of 152 companies listed on the Warsaw Stock Exchange.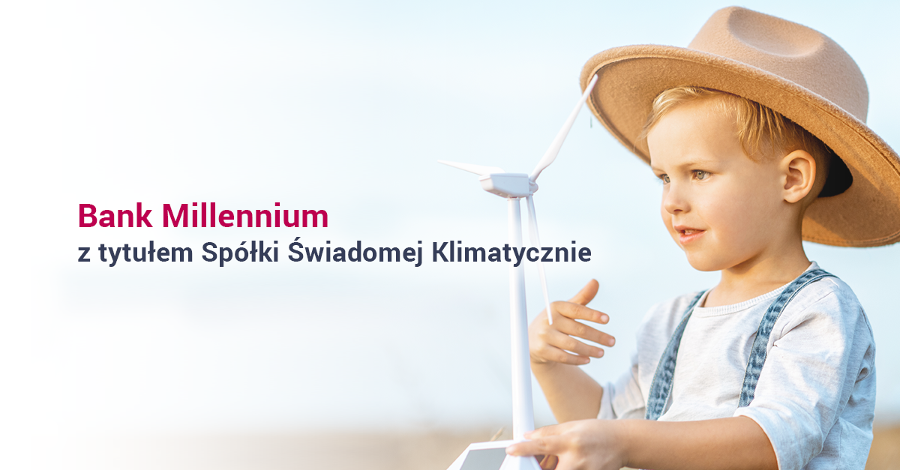 - Care for the natural environment is a permanent and important element of Bank Millennium's strategy. For over 10 years, we have been monitoring, reducing and reporting our own CO2 emissions, and we strive to achieve complete climate neutrality. We do not provide financing to coal mines or investments in coal-based energy, with the exception of new investments related to pollution reduction. In addition, we care about the development of sustainable business and as part of the 2022-2024 strategy, we allocate 2 billion PLN to finance sustainability and transformation projects. We also increase the environmental awareness of our customers. We taught them how to use digital solutions and showed them the benefits of a mobile application. We are proud to receive the title of Climate-Conscious Company. We would like to congratulate the other companies and institutions that were included in the ranking next to us and we are glad that the number of companies achieving higher and higher results in the survey is growing every year – said Magdalena Trzynadlowska, Director of the Sustainability Office at Bank Millennium.
The Climate Awareness Survey of Companies is a joint project of the Reporting Standards Foundation, the Association of Listed Companies and Bureau Veritas, conducted in substantive cooperation with MATERIALITY. As the authors of the project indicate, its aim is to regularly study which companies are aware of their impact on climate change. The initiators of the project want to raise the awareness of large and medium-sized enterprises about their impact on climate change and at the same time provide investors, customers and all other public stakeholders with reliable, measurable and comparable data to assess which companies take into account climate change issues in their management processes.
The study includes 10 criteria, including i.a. managing climate issues within the organisation, having a policy, strategy or inclusion in the business strategy of managing the company's climate impact, climate-related risks and opportunities, greenhouse gas emissions and reporting, or targets and action plans. Each of the criteria is evaluated on a scale of 0-1 points, the maximum result in the survey is 10 points. Companies that exceed the threshold of 70% of the maximum result in the survey are awarded the title of "Climate-Conscious Company" by the initiators of the survey. Ranking has been running since 2017.
Details of the results of the Climate Awareness Survey can be found on the SEG website