A unique image spot of Bank Millennium
Bank Millennium has prepared a unique advertising spot in which it talks about the values that guide it as an institution. At the same time, the spot promotes the largest documentary film festival in Poland, Millennium Docs Against Gravity, of which the bank has been a sponsor for 17 years.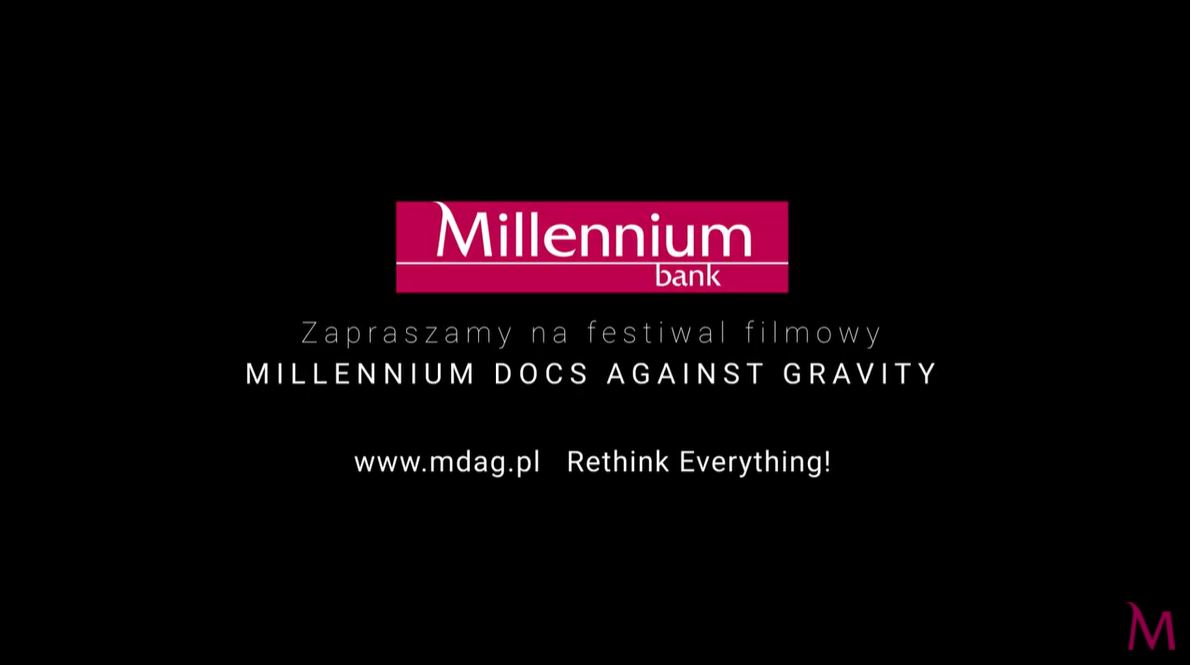 - At Bank Millennium, for years, out of concern for the Earth, we have been promoting environmental protection and expanding environmental awareness. Just like the Millennium Docs Against Gravity festival supported by us, with which we share the same values. Next to the festival, the spot is a preview of Bank Millennium's next activities. It is about the world, people, nature, climate support, the environment. It's about us. – says Iwona Jarzębska, Director of the Public Relations Department at Bank Millennium. - Prevention of climate change and care for the environment are priorities included in the bank's strategy for 2022-2024. In the field of sustainable development the following has been planned: short- and long-term goals for reducing carbon dioxide emissions in all areas, increasing financing for projects related to sustainable development and transformation of the bank's clients, lack of involvement in financing coal energy and mining and support for initiatives to increase awareness and knowledge about climate change – she adds.
This is OUR WORLD.
The whole world, small world, BIG WORLD.
Frightening, delightful, astonishing.
A world worth fighting for.
A world worth living for.
LET'S PROTECT it together.
Bank Millennium cares about what is important:
Environment, culture, local communities.

The spot can be viewed on the bank's YouTube channel https://www.youtube.com/watch?v=NdlD-DR3M-Y. The spot is also broadcast as part of the bank's campaign promoting the festival on YouTube, Instagram and Tik Tok, as well as contextually on Filmweb and wyborcza. Creation has been prepared by Change Serviceplan.
Bank Millennium has been sponsoring the Millennium Docs Against Gravity festival and funding the Grand Prix during the festival already since 2006. In 2016 it took title sponsorship over the event in order to promote together with Against Gravity Poland's biggest celebration of documentary film.
This year, in addition to the Grand Prix, the bank funded two additional prizes:
Award for the Director of the Best Ukrainian Film from the program 19.MDAG
Award for the Best New Film Project from Eastern Europe presented during the pitching of Eastern Europe Against Gravity projects.
Bank Millennium has been involved in culture promotion for more than 30 years now. In parallel to its business it has supported national and local cultural events. It is a sponsor of culture 360° - promoting art in almost all its forms, including: music, painting, sculpture, film, theatre, photography, literature and performance. It reaches for niche and popular culture and is a long-term partner by design.
More about the bank's sponsoring at:
www.bankmillennium.pl/o-banku/centrum-prasowe/mecenat-kultury

link otwiera się w nowym oknie
https://raportroczny.bankmillennium.pl/2021/pl/raport-esg/spoleczenstwo-society/bank-w-otoczeniu-spolecznym/dzialalnosc-spoleczna/mecenat-kultury/

link otwiera się w nowym oknie
For more about the festival go to www.mdag.pllink otwiera się w nowym oknie