Bank Millennium included in Respect Index
For the eleventh time Bank Millennium has been included in Respect Index – the index of socially responsible companies listed on Warsaw Stock Exchange.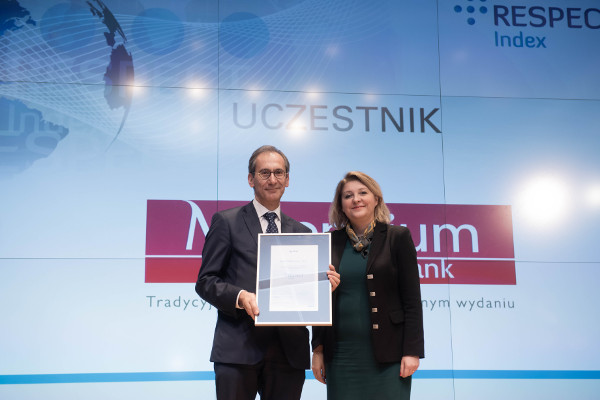 Respect Index comprises companies listed on the main GPW market, which follow the best corporate governance, information governance and investor relations standards as well as respecting environmental, social and economic factors. This year Respect Index includes 31 companies, which include 7 banks.
Environmental and social factors are increasingly often taken into account by investors as they evaluate the standing and prospects of listed companies. Companies comprising Respect Index are characterised by a higher rate of return than the market average expressed by the WIG index. Since the first publication in 2009, the Respect Index increased its value by 70%.
- Bank Millennium has been included in Respect Index for the eleventh time already. Such long-standing presence in the index is proof that we are a responsible company, which operates in a transparent way. For many years CSR has been part and parcel of our business strategy. We keep surveying and responding to the needs of our environment – customers, employees, local communities or business partners. – Fernando Bicho, Deputy Chairman of the Management Board of Bank Millennium, emphasised.
CSR activities support attainment of Bank Millennium's business objectives. According to the guidelines of Strategy 2020 the bank focuses on three groups of stakeholders: customers, employees and local communities. Actions targeted at customers relate to providing banking without physical and digital barriers, offering non-banking digital functionalities e.g. access to e-administration as well as observing ethical principles in sales. Apart from assuring stable and attractive conditions of employment programmes for employees involve supporting diversity in the organisation. This year Bank Millennium signed the Diversity Charter – a commitment by companies, which ban discrimination in the workplace and promote diversity. Programmes for local communities are mainly carried out by the bank's employees who receive grants for organising volunteering actions. So far more than 300 volunteers have implemented programmes for several thousand beneficiaries.
Since 12 years ago all CSR actions are recapitulated every year in Bank Millennium's Corporate Social Responsibility Report. The company also supports UN Sustainable Development Goals. Joining the business and government administration partnership for attaining these Goals Bank Millennium declared it will undertake activities especially as regards financial education of children and the youth.