Testimonials
Select an offer for yourself and… join those who have already made up their mind!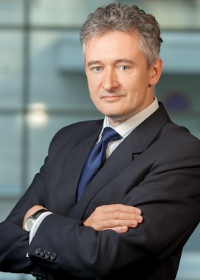 Jacek Chmielewski
Dyrektor Departamentu Kadr
Why is it worthwhile to work at Bank Millennium?
In response to this question, I would give three reasons:
We are a good team. Bank Millennium offers very good products and uses state-of-the-art IT systems. However, this is similar in other banks. It is our employees, and not systems or products, which make us number 1 in Poland in terms of service quality. It is the people working with us who make the real difference. Their professionalism, maintenance of the highest standards and determination in striving to get better every day are our success drivers. We are a good team and work hand-in-hand for our collective success.
We are changing in order to become a better bank. Since the establishment in 1989, we have been pioneers in numerous areas (the first Bank listed at the Stock Exchange, the first bank merger, the first Visa card issued, the first new generation retail network). We have been always brave enough to purse far reaching changes, which permitted us to become one of the modern financial institutions in Poland. I was lucky that I could observe these changes and participate in some of them.
We promote individual development. Bank Millennium is a company which offers its employees development opportunities, but you have to be open to them. I started work at our Bank as a relationship manager. I went through all the tiers in the corporate banking and trade finance up to the head of the department. I also managed the quality area and took part in development of the processes management system, and since 2009 I have been responsible for the HR area. I know that I would not have been able to achieve so much in any other company, while my work elsewhere would surely not have provided me with such a varied and interesting experience.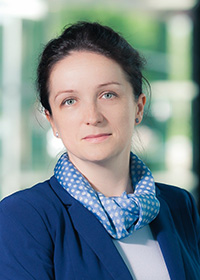 Magdalena Szpilska
Head of Subunit at the Direct Banking Department
I came to Bank Millennium in 1999. I came for just a while. I had some other plans and another idea for my life. Following an interesting and long recruitment process experience, I was accepted into the organisation which was so much different than Bank Millennium in its current structure. This was the beginning of modern retail banking in cooperation with Banco Comercial Portugues and BIG Bank GDAŃSKI. We were all one team. Bit by bit, it evolved into dedicated structures responsible for specific service areas.
Right from the start, I was involved in the work of the unit responsible for over-the-phone communication with our clients, performing very different roles – I was telephone consultant, shift manager, trainer etc. I handled, inter alia, claims, monitoring and processes. Over the last few years, I have managed a team whose effectiveness drives the work of all our telephone consultants. I work at the contact point between two specific environments: the Bank and the call center. My job is rife with challenges but it does bring satisfaction.
I have certainly already forgotten my original intentions, I have graduated from other lines of studies. As a matter of fact I am still learning. Especially, at work. People keep asking me what I have been doing so long in one place. It is not the same place. Over these years, everything has changed, not just the name and logo.
At the Bank I meet people who support my development. Not only outstanding bosses and rare specialists. I very much appreciate contact with those who started work at the Bank later than I did and with whom I can share my experience. For a long time, it was me who welcomed our new consultants. We select them carefully as they are the voice of our Bank. I have always forewarned openly that is not the job for all your life. But it does give a host of opportunities. Especially, here. I am happy while my younger friends, similar to me, find their place at Bank Millennium.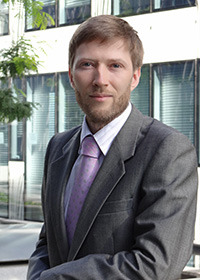 Krzysztof Grabowski
Head of Subunit at the Risk Department
I joined Bank Millennium shortly after my studies. The Bank was only evolving into its current format then (at that time Millennium and BIG Bank GDAŃSKI were still separate institutions), which gave an opportunity to participate in numerous initiatives, observe and learn everything from scratch. Going for a job interview, I thought that I would become a credit analyst, however, it turned out that almost right from the very start I was able to use the skills acquired at my studies for the analysis of the entire credit portfolio. At that time, the Department, to which I was assigned, handled almost entire credit process – risk assessment of individual Clients, preparation of credit agreements, monitoring of default rate, restructuring, calculation of special provisions, as well as – which captured my interest most - scoring card analysis and development, and designing the credit process support IT systems (so-called work flow systems).
Next, although I was afraid that the merger between Millennium and a large and structured institution which was BIG Bank GDAŃSKI would stall the drive for new solutions, the Bank picked up even more speed. I had implemented (sure, I was not alone) new accounting standards (IAS), and when we had been already done with it, I took up capital requirements, economic capital and implementation of the latest standards, which were Internal Ratings-Based approach (IRB). And here I must mention that Bank Millennium is currently the third bank in Poland which was given consent for application of such methods. Every time, when one project was finished, almost immediately another one would appear, and in its wake new challenges would follow. Thus, I could discover increasingly new areas and meet interesting people, of whom we are not short at our Bank.
Currently, I manage one of the subunits at the Risk Department. I am responsible for almost the entire area related to capital adequacy (capital requirements, internal capital and capital management), stress tests and a number of a few risk models.
Looking from a perspective of a dozen years, I believe that the great advantage of the work at Bank Millennium is its employees' dynamics, experience, and also open approach of the management to new things and changes. There is never shortage of work and new challenges, or opportunities to learn something new.