Volunteers from the bank together with teachers and students from a school in Pawłowice in Silesia used a grant obtained from Bank Millennium Foundation to carry out an action promoting a sporty lifestyle among the students.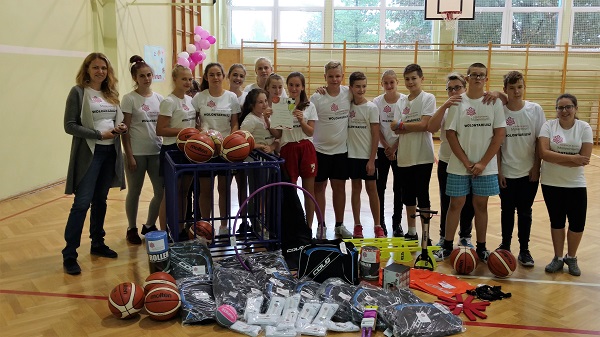 The main aim of the project was to get the young people interested in sports as a way to spend leisure time and also to integrate the students from the school. In the action the school was given sports gear and basketball games were arranged for the students. Also general education classes were held to talk to the youngsters about their passions and the benefits of engaging in sports.
An important part of the project was support for the school's GUKS Gwarek Sports Club, members of which – female students of the school, are three times basketball champions of Silesia in KU14 league. Gwarek offers sports activities for the youth, which is an important alternative to browsing online and additionally is conducive to integration. Despite many difficulties with funding the club, which is financed only with contributions from the parents, young people have an opportunity to train and be successful in basketball. The grant from Bank Millennium Foundation allowed essential sports accessories, balls, training outfits and sports bags.
Next to financial education and cultural education programmes, employee volunteering is one of the three pillars of activity of Bank Millennium Foundation.