"Sensory room" is a project of volunteers from Bank Millennium implemented under the competition for a Bank Millennium Foundation grant.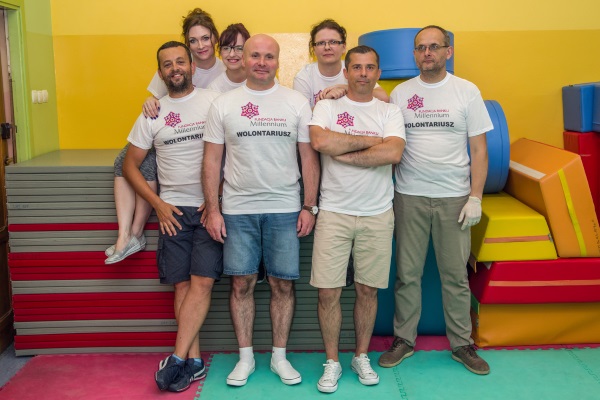 Beneficiaries included AlterEdu Foundation and Primary School no. 75 in Warsaw. The project involved preparation and provision of equipment and fixtures to a specialist sensory room for children with various development and adjustment dysfunctions. In effect of volunteer work and financing procurement of exercise equipment with use of Bank Millennium Foundation resources children will be able to improve their motor skills, develop spatial imagination, acquire planning skills and alleviate emotional disorders. It is worth to underscore that the only room of this type in Warsaw-Śródmieście area will be used not only by primary school charges but also by all inhabitants of the district.
Values offered by voluntary involvement include selfless help to others, often more vulnerable people and devotion of one's own private time to act to the benefit of others. We are convinced that that acting this way we can improve someone's every-day life, bring joy the their lives – said Dariusz Hetman, the project leader. – With a lot of energy and enthusiasm we approached the project. The Bank Millennium Foundation grant given to support our project confirmed that we can organise and share tasks and responsibilities irrespective of our functions within the organisation. Research confirmed the open-minded people in a good mood are the most willing to help; therefore despite high commitment and a lot of work including cleaning of a gym, we did enjoy ourselves declared Bank Millennium volunteers who also individually gain from this form of social activity – it is character building, self-improvement and improvement of the world for others. We are helping as we might ourselves face a situation, in which we could find ourselves depending upon involvement of other people. By helping others we are becoming acquainted with new people, build up good mood and strengthen our perception of ourselves as worthy persons; it is also important – added the volunteers.
The employee volunteer programme is, besides financial education and cultural education programmes, one of the three pillars of the Bank Millennium Foundation activity.