A group of Bank Millennium volunteers together with pupils and teachers of the Primary School in Czaple (Kujawsko-pomorskie Voivodship) equipped the school playground with outdoor games facilities. Project was implemented from grant financing obtained from the Bank Millennium Foundation.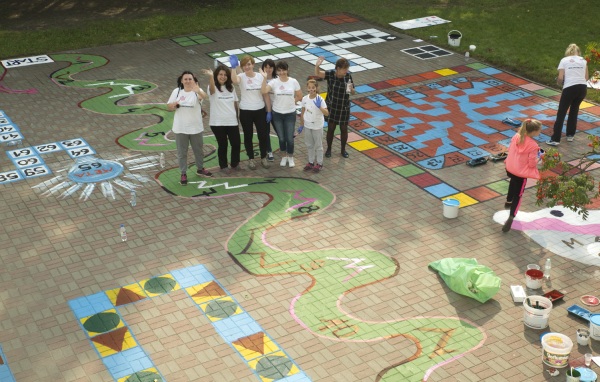 The activity undertaken by volunteers and local community involved painting, using water resistant paint, outdoor game formats on the school playground pitch. Games were designed by school pupils themselves. During the event, basketball boards were also assembled. Children will be able to use them during breaks between lessons, physical education classes and during their free time – also after school opening hours.
Besides painting of a pitch, organisers designed additional fun and games for participants. Project implementation was accompanied with chequers workshops – conducted by one of the Bank volunteers, Zumba show and games with music as well as face painting. The youngest could play on a rubber playground provided by Świecie municipality and taste ice-cream and juices offered by sponsors.
Project was financed from Bank Millennium Foundation grant obtained in effect of competition. Bank Millennium volunteers may win funds to carry out self-designed volunteer campaign or event. Projects involving many volunteers and many beneficiaries, generating sustainable impact upon the life of the local community, have the greatest chance to win funding.
The employee volunteer programme, besides financial education and cultural education programmes constitutes one of the three pillars of the Bank Millennium Foundation activity.