It is best to learn about finances when aged three to seven - parents of preschoolers say in a survey carried out GfK for Bank Millennium Foundation.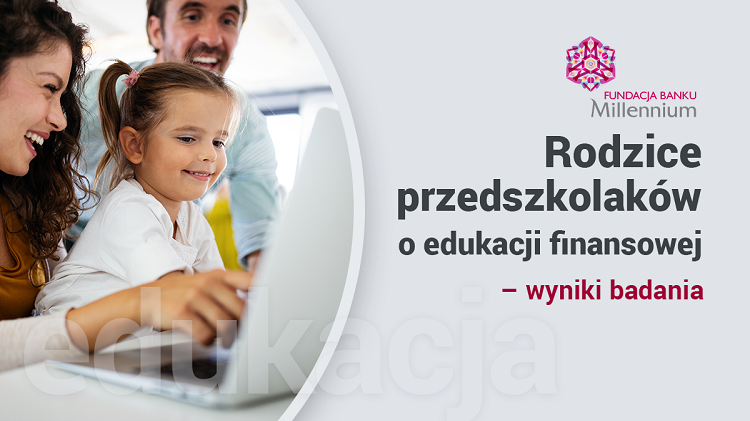 Time is money
Only 2 per cent of parents are convinced that in order to get to know the world of finances a child just needs to observe the adults. Three quarters of the preschooler parents are of the opinion that 3-7 years of age is the best time to start financial education. Close to 90% of parents of children of pre-school age educate their kids in spending money reasonably (mothers more often), encourage saving, finance the child's small pleasures and wants, encourage reading, explain the value of money using examples. Over 60% of the persons surveyed talk to their preschooler about finances and the household budget, ask for the kid's opinion when deciding about expenses of trips together. Mothers significantly more often than fathers encourage the child to support charities, while fathers are more inclined to encourage the kid to earn its own money and to provide "paid" help with home chores.
Financial education is much more than knowledge about money
Parents asked to identify three features from a list of characteristics, which in their opinion should be developed first of all in children of pre-school age, usually mention: self-assuredness, creativity and teamwork skills. These features, as well as the following ones, also highly spoken-of by the parents: stress management skills, planning or resourcefulness are natural elements of financial education. Interestingly enough, though few parents pointed to the habit of saving as a key one to be developed in the preschool period, nevertheless 90% of them declare that they encourage the kid to put money aside, e.g. in their own piggy bank. Additionally most parents of children of kindergarten age are of the opinion that people taught from their youngest years about the value of money find it easier to cope with the current crisis involved with the epidemic situation.
Support in financial education is invaluable
Parents are open to the development of their children in finances and entrepreneurship - first of all in the form of talking to the child. No less than 73% respondents say that they plan to talk to their child in the nearest future about finances, saving, entrepreneurship. 67% parents declare that they would be interested in participation of their 3-7 years-old kid in free sessions on finances. Such opinions result on the one hand from the conviction that the sessions will help the kid with finances in the future; on the other hand they are motivated by the desire to support the kid's development in various areas. 37% of parents think that it would make an interesting change in the kid's everyday reality, while a third (32%) are of the view that this is an essential part of education nowadays.
Close to half of the parents surveyed (47%) expect support in financial education of children from public and private institutions. 14% point to financial institutions (banks). At the same time 56% of the parents see the need to create a National Financial Education Programme from kindergarten onwards.
Financial education within hand's reach
Bank Millennium Foundation responds to the parents' needs and actively supports them in financial education of children. For years it has been giving "Financial ABCs" classes in kindergartens where during 2200 workshops 53,000 children have already been tuitioned in 630 kindergartens all over Poland. The workshops are accompanies by a series of "Financial ABCs" booklets for teaching finances to kids. The main character in the ABCs and the guide to topics associated with finances is the dog Sebastian. Four episodes of "Financial ABCs" in the form of animation are available now of the Foundation's kanale YouTube Fundacji. This new formula of education is a special proposition from Bank Millennium Foundation for the time of the difficult situation associated with the coronavirus.
The latest initiative of Bank Millennium Foundation is a guidance series of articles on how to teach children about finances. The texts can be of material help to parents and guardians involved with home education during the pandemic. More information can be found here: https://www.bankmillennium.pl/o-banku/fundacja/wydarzenia/finansowy-elementarz-poradnik-dla-rodzicow. The Foundation's YouTube channel also shows a series of video materials - interesting interviews on how to introduce a child to the world of finances and develop positive habits regarding money management.
The survey was carried out by GfK institute for Bank Millennium Foundation in May 2020 on a national sample of 1000 parents of children aged 3-7, with use of CAWI methodology.
We invite you to read the full survey report