Development of environmental education, a new ecological branch of the bank, supporting gender equality and people with disabilities and the involvement of employees - volunteers of Bank Millennium Foundation in helping local communities, which suffered in result of the pandemic - these are the special activities submitted by Bank Millennium to the Report "Responsible Business in Poland. Good Practices".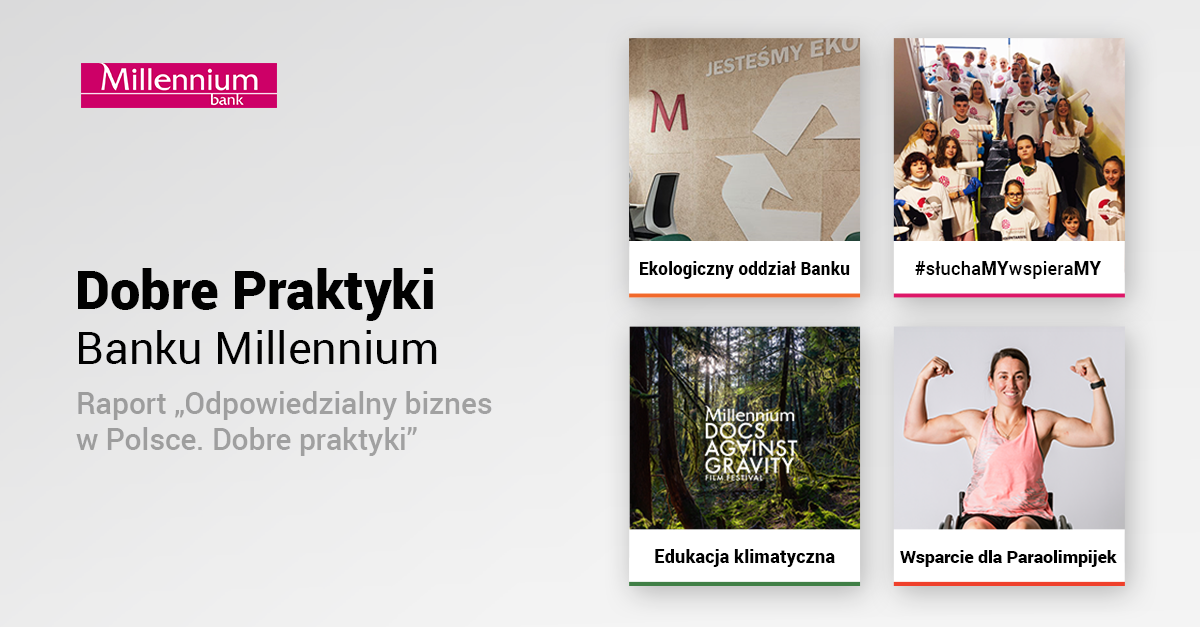 The publication prepared annually by the Responsible Business Forum is the largest review of CSR and sustainable development initiatives in Poland. It is a cyclical review of the activity of companies that have reported their CSR activities and summarises the most important issues related to responsible business in a given year in Poland. Importantly, the report accepts practices that relate to long-term activities, not only actions, as well as those that are related to activities at the strategic level and have the value of innovation. In this year's 20th edition, 1,677 activities undertaken by 283 companies were presented.
Practices are catalogued in terms of the implementation of individual UN Sustainable Development Goals (SDGs). Bank Millennium reported four practices in line with five of these objectives: Quality education (4), Gender equality (5), Innovation, industry, infrastructure (9), Reduced inequality (10) and Climate Action (13).
Bank Millennium's Good Practices, which have been included in this year's Report, are the following:
Climate education in Millennium Docs Against Gravity
Model ecological branch of Bank Millennium
Support for Paralympic women as part of a scholarship with the Unaweza Foundation and the #CorinneRunsForGood action
#słuchaMYwspieraMY of Bank Millennium Foundation
A detailed description of activity of Bank Millennium towards sustainable development in the environmental, social and corporate governance area with respect to the main stakeholder groups is presented in detail in the 2021 ESG Reportlink otwiera się w nowym oknie. Activity in the ESG area has been an integral part of the Bank Millennium Group's business approach for many years and has also been included in the strategy for 2022-2024.
A description of the good practices of Bank Millennium is available here https://odpowiedzialnybiznes.pl/dobre-praktyki/?trd%5B%5D=2901&org%5B%5D=1229&ppp=10Akapitlink otwiera się w nowym oknie.