Benefits of Millennium Investment Programme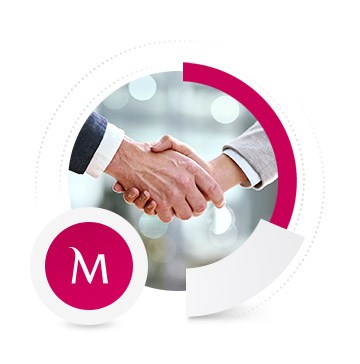 500 PLN is enough for a start
0 PLN for opening, payments and maintenance of the programme
3 ready to purchase plans
permanent control over the investment in Millenet
no fee for withdrawal all funds after 2 years of investment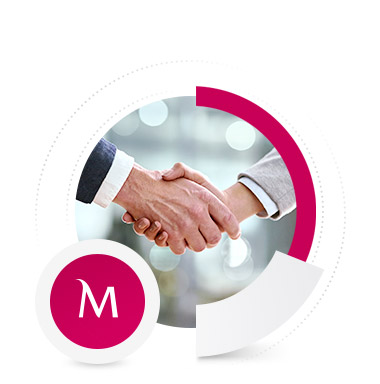 Three plans ready to purchase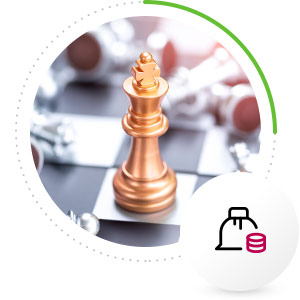 Stable Plan
Low level of potential profit and risk
Find out more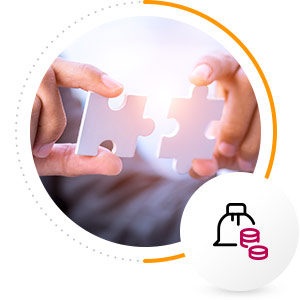 Moderate Plan
Moderate level of potential profit and risk
Find out more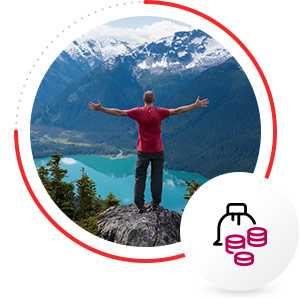 Dynamic Plan
High level of potential profit and risk
Find out more
How to start?
1

Visit any Bank Millennium branch where you will receive necessary information

2

Choose plan which matches your style and investment preferences

3

Open the programme. Monitor your investment results conveniently in Millenet
Fees
Maintenance fee
Handling fee charged upon withdrawal of funds during the investment
Programme maintenance
0 zł
Maintenance fee
Programme maintenance
0 zł
Handling fee charged upon withdrawal of funds during the investment
Learn about the plans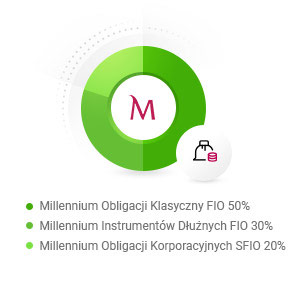 Stable Plan
3 subfunds are choosen to this plan: Millennium Classic Bond, Millennium Debt Instruments and Millennium Corporate Bond. All of them invest in debt securities (i.a. treasury and corporate bonds).
Subfunds choosen to this investment plan carry low risk profile.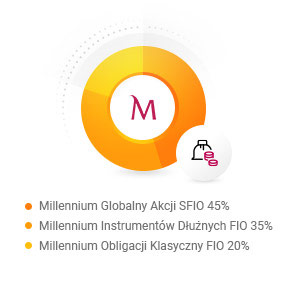 Moderate Plan
3 subfunds are choosen to this plan: Millennium Global Equity, Millennium Debt Instruments and Millennium Classic Bond. Depending on the subfunds, they are invested in debt securities (i.a. treasury and corporate bonds), large and smaller company shares or foreign funds shares.
Subfunds choosen to this investment plan carry different risk profile.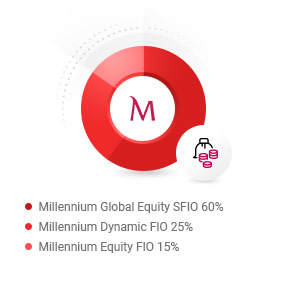 Dynamic Plan
3 subfunds are choosen to this plan: Millennium Global Equity, Millennium Dynamic and Millennium Equity. All of them invest in large and smaller company shares and foreign funds shares.
Subfunds choosen to this investment plan carry high risk profile.
Worth knowing
Withdrawal of invested funds before the end of programme

You always have access to your funds. In first 2 years each withdrawal from the programme will be charged a handling fee.

Change of plan in the course of investment

The selected plan is assigned to your program. In order to change your investment strategy, you have to withdraw the funds and open new programme in a branch.

Investment increase

You always have the opportunity to make subsequent payment into your investment programme.

Active investor

You can open numerous programmes and divide your funds into selected plans.
Questions and answers
---

In order to get access to investment products in Bank Millennium, you have to complete a questionnaire (appropriateness assessment) and sign Framework Agreement on provision of financial services. Thanks to your answears given in the questionnaire we check your knowledge and investment experience and assess whether the selected investment product is adequate for you and compatible with your needs, traits and goals.

You can fill the questionnaire in Millenet. The agreement can be signed in any Bank Millennium branch.

---

If you already have an access to the investment product offer in Bank Millennium, select a plan which meets your expectations as to the level of potential profit and level of potential risk. Thereafter, declare the amount and your funds will be invested in package of 3 Millennium Subfunds in accordance with the division defined in your plan, as it is set out in the programme regulations. If you will be making payments or withdrawals in the future, your funds will also be devided according to the division mentioned above.

---

You can open the programme in any Bank Millennium branch. Minimum amount of first and each subsequent payment is 500 PLN.

---

Millennium Investment Programme offers 3 ready to purchase investment plans (Stable, Moderate and Dynamic) which differ from each other in risk and reward profiles. Each of them offer funds diversification, i.e. simultaneous investment in 3 selected subfunds of Millennium TFI. Thanks to this, you limit the risk of investment, spreading it on various investment strategies, and you benefit from the potential of global markets at the same time.

You decide which plan meets your investment expectations.

Through the Millennium TFI investment funds you have the opportunity to invest in capital market instruments. Depending on the plan, these will be shares of Polish and global company shares, treasury or corporate bonds.

More details of each plan investment strategy and particular investment funds can be find in Plan's Fact Sheet and KIID documents.

---

Regular payment into Programme are not required. Subsequent payment can be made at any time. The minimum amount of each subsequent payment is 500 PLN.

What is important, the long-term regular investments of even small amounts gives an opportunity to accumulate significant capital in the future. Furthermore, if you make payments in different periods, you average the price of participation units. It can have an influence on limitation of risk of purchasing all participation units at the least favorable price.

---

Participation in programme lasts 5 years. You always have an access to your funds, regardless of when you decide to withdraw them. You can withdraw all your funds after 2 years at no handling fee.

After 5 years from opening the programme, selected plan will be closed. You will be able to continue your investments into three separated Millennium subfunds, in other words, make payments, make changes or withdrawal funds within each subfund individually.

---
Important information
Financial transactions involve risk presented in "Description of Risk Involved with Financial Instruments and Products for Private Persons in Bank Millennium S.A.", available in branches and on the Bank's website www.bankmillennium.pl.

Investing in funds involves risk of a loss as well as the obligation to pay handling fees and income tax. The Fund does not guarantee attainment of the investment goal or a specific investment result. The net value of funds' assets is highly volatile due to the composition of the investment portfolio. In cases, in which the Fund's Articles of Association provide for the possibility of investing more than 35% of a Subfund's assets in securities - the issuer, surety or guarantor of these securities may only be the State Treasury, NBP, US government, European Central Bank or the European Investment Bank.

---

Investment Fund – is an entity with legal personality operating under the Act of 27 May 2004 on investment funds and management of alternative investment funds. An investment fund's sole operation consists in investing monies collected publicly or privately in securities, money market instruments, and other property rights stipulated in the Act.

In return for payments into the fund investors receive participation units. Their number shows proportional share held by the investor in the investment fund assets. In specified time intervals the fund determines the value of participation units i.e. calculates "net value of fund's assets" assigned to a single participation unit. For this purpose, the fund determines the value of its investment portfolio and divides it by the number of participation units allocated to all participants. The value of participation unitmay change on each valuation day.

---

sector risk,
credit risk,
risk of short-term price changes,
FX risk,
risk of non-admission of the issuer's securities to trading on the regulated market,
liquidity risk,
tax risk,
legal risk,
settlement risk,
market risk,
interest rate risk,
loss-of-capital risk,
risk involved with concentration of assets or markets,
amount of fees,
product complexity.

Prior to making an investment the information about funds should be read, including financial data and description of risk factors, which are contained in Prospectuses and in Key Information for Investors (KIID), available together with the Funds' fees table in Bank Millennium branches, in the offices of Millennium TFI as well as online at www.millenniumtfi.pl.

Conclusion by the customer of transactions involving financial instruments is the basis for consideration that the customer has read the terms and conditions of the transaction as well as the related risk and has accepted them.

---

Monies invested in investment funds are not protected by the Banking Guarantee Fund, in keeping with the Act of 10 June 2016 on Banking Guarantee Fund, system of protection of deposits and compulsory restructuring.

---

All and any information contained in this commercial publicationis for information purposes only and does not constitute an offer, or a recommendation or an invitation addressed to anyone (or any group of persons whatsoever) to conclude a transaction involving the financial instruments presented herein. In particular the information contained in this publication does not constitute an offer in the meaning of the Civil Code of 23 April 1964 nor is it a service of investment, financial, tax, legal or any other advice. Any investment decision should be taken on the basis of information contained in Prospectuses and in Key Information for Investors (KIID), not on the basis of the abbreviated description contained herein.

Dissemination, distribution and trading of some financial products may be subject to restrictions with respect to certain persons and countries, in keeping with relevant legislation. It is for the customer to demonstrate legal capacity and authority to invest in the financial instrument. Offering and trading of financial instruments may be done only in compliance with relevant legal regulations.

Information contained in this publication shall be made available to the recipient on an exclusive basis. The recipient is not authorised to copy or send and make the information available in whole or in part in any other way to third parties (except its sending to professional advisors) without the Bank's prior written consent.
MiFID
MiFID (Markets in Financial Instruments Directive) is the European Directive concerning the market of financial instruments and products, which sets down a uniform legal framework for banks, brokerage houses as well as other brokerage operators in the European Union as well as in Iceland, Norway and Lichtenstein.

The MiFID Directive aims to enhance and harmonise Client protection in banks, increasing consistency and transparency of the operation of banks as well as increasing competitiveness on the financial instruments market.

---

Look here to find basic information about MiFID. More

---

Read about Client classification rules and the Bank's obligations. More

---

We will check, which financial instruments and products and investment services are appropriate for you. More

---

Read about the nature of financial instruments and products and related risks. More

---

We operate in a reliable way and in the Clients' best interest. More

---

Look here for all documents about MiFID in Bank Millennium. More