Forest - home of animals, breath of humans, climate shield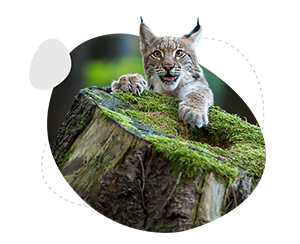 Forest are great manufactures of oxygen. Meanwhile, the Earth looses almost 100 million trees every year.
A hectare of forest absorbs up to 250 tons of carbon dioxide annually. One adult, 60-year-old pine tree produces the oxygen necessary for the life of 3 people. Polish forests are the most important refuge for three endangered species: the brown bear, the wolf and the lynx.
What we do for our planet
Climate neutrality

Bank Millennium has pledged to achieve climate neutrality for its own emissions by 2027.

"No" to fossil fuels

In Bank Millennium's exposure portfolio, exposure to coal and hydrocarbons mining is close to zero.

Bank Millennium is the climate leader 2021

According to a ranking by Forbes magazine Learn more.

WWF Millennium Mastercard

A unique credit card that supports forest conservation initiatives. About the card.

WWF Partner

Since 2008, Bank Millennium has been working with and supporting an international organization saving the planet.
Contact us
or call - helpline available 24/7