The results of this year's fourth edition of " Millennium Index" ranking do not indicate significant changes in the innovation potential of Polish regions. The top two places in the listing are held by mazowieckie and małopolskie voivodships. Their trump card is strong urban agglomerations with extensive scientific base and developed business. Cooperation between business and science has an important impact on development of innovative services and industry sectors. Among others, it contributes to the sector of innovative business support services for IT, procurement and research and development. And the strong point of dolnośląskie voivodship - holder of the third place in the ranking - is high labour productivity. It is largely the effect of productive mining and industrial processing which play a major role in the economy of the region.
Among the top most innovative voivodships there is also pomorskie voivodship, a strong research and development centre. It translates directly into significant research and development expenditure and high employment in the sector. Pomorskie voivodship has also a high share of university graduates in technology and science which prepares for work in areas with a large potential for creation of innovative solutions.
- Compared with the last year's edition of "Millennium Index", in this year's listing five voivodships improved their position: kujawsko – pomorskie, lubuskie, łódzkie, śląskie and zachodniopomorskie. However, these were not big jumps - only by one position. This was most often due to an increase in research and development expenditure and a higher number of students. Also the result of the łódzkie voivodship is worth noting as this year, it overtook Wielkopolska. Łódź as an industrial and service centre has been gaining in importance, and its central location, increasingly better infrastructure and presence of a large academic centre are conducive to restoring the region's potential. - says Grzegorz Maliszewski, Chief Economist of Bank Millennium and one of the authors of the report.
2019 Millennium Index – voivodship ranking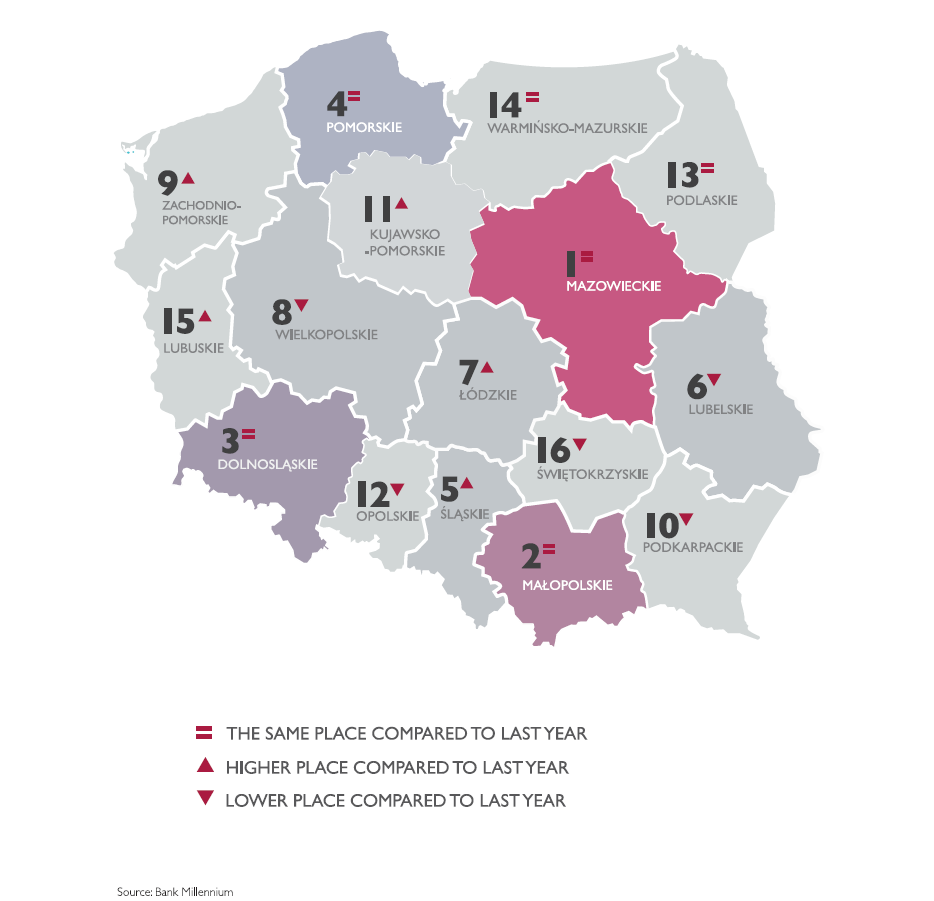 As in previous years, the last places in the ranking were taken by warmińsko-mazurskie, lubuskie and świętokrzyskie voivodships. Low ranking of regions in the ranking is determined by their relatively low industrialisation and weak development of educational infrastructure. It is reflected in low scientific and research activity, low number of patents and low research and development expenditure. Consequently, it leads to low labour productivity and small value added rate generated by local firms.
– What draws attention in these regions is the relatively high effectiveness of local innovators. Although they have lower expenditure and resources, they achieve relatively better effects in the form of higher labour productivity or number of registered patents. Unfortunately, taking into account the scale of these regions, it is not easy for them to catch up with the leaders - assesses the economist of Bank Millennium.>
This year's "Millennium Index – Regional Innovation Potential" ranking surprises with increase in the disproportion between the leader – mazowieckie voivodship and other regions. None of the voivodships has managed to reduce the distance to the top leader, although zachodniopomorskie and kujawsko-pomorskie to the least degree increased their distance to the leader compared to the previous year. The biggest discrepancies concerned mainly labour productivity and number of patents obtained. However, the differences in the area of research and development were reduced, especially as regards research and development expenditure.
Millennium Index – comparison of 2019/2018 results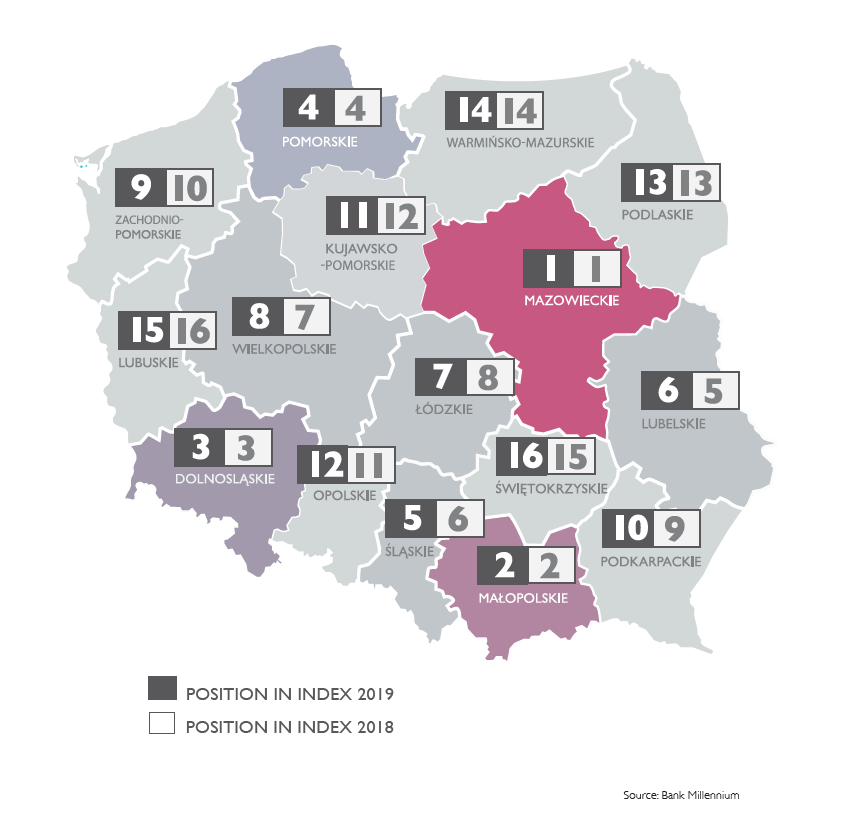 - "2019 Millennium Index" report reflected impact of trust and regional cooperation on the increase in economic and innovation potential. The voivodship where the companies cooperate with one another, have better results in innovations. Lubelskie and Podkarpacie are perfect examples of regions where innovation potential is higher than the power of their economies measured with share in GDP. It is no coincidence that these are also regions in which the percentage of companies working together for innovations is the highest. - comments Grzegorz Maliszewski . - Trust triggers potential that gives measurable benefits without the need to incur additional financial outlays. It is an aspect of particular importance in case of regions which are not large economic centres and thus do not have overwhelming financial resources. It shows how essential it is to build trust and culture of cooperation between all participants of the innovation process - enterprises, universities, research and development centres, local and central authority. – adds the expert.
2019 Millennium Index - 5 innovation criteria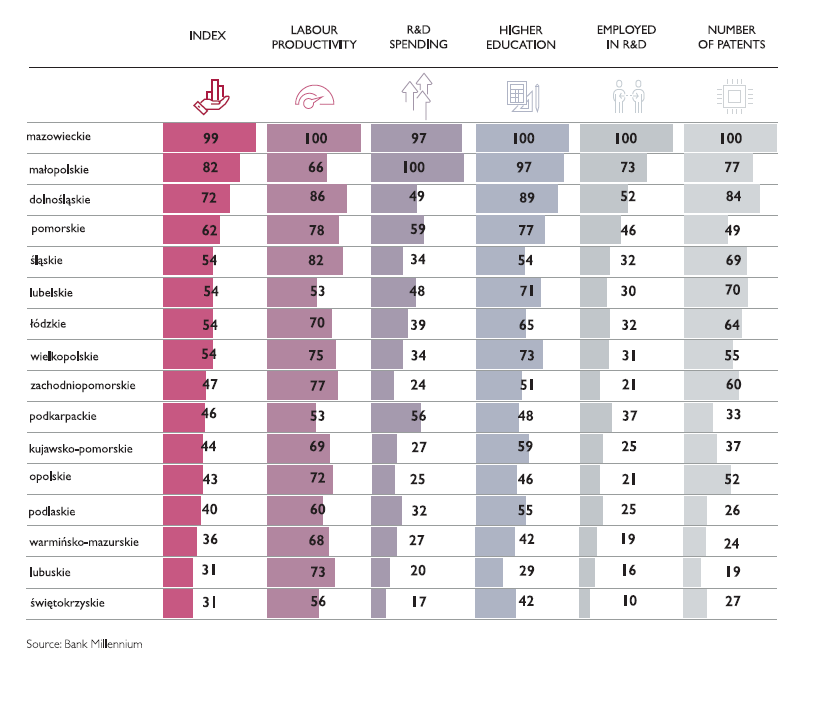 "2019 Millennium Index – Regional Innovation Potential" is an original research developed by Bank Millennium, featuring the latest available data of the Central Statistical Office and Pont Info database. The results of the ranking were developed as total of the results in 5 categories which according to the Bank's experts to the largest degree impact regions' innovation potential. These are labour productivity, research and development expenditure (R&D), number of students working in R&D and number of issued patents. This year's edition of the "Millennium Index" was supplemented with comments from experts who point to the key drivers of innovation development, including trust and cooperation.
For the details of the ranking results visit the website: https://www.bankmillennium.pl/about-the-bank/press-centre#indeks-Millennium