Bank Millennium has been awarded the CSR Silver Leaf again
For the fifth time now Bank Millennium received the CSR Silver Leaf from Polityka weekly. This award is given to companies, which implement the most stringent standards of corporate social responsibility in their day-to-day activity – they have ethics management systems, are good corporate citizens, introduce actions in response to the needs of clients and staff and minimise their impact on the natural environment.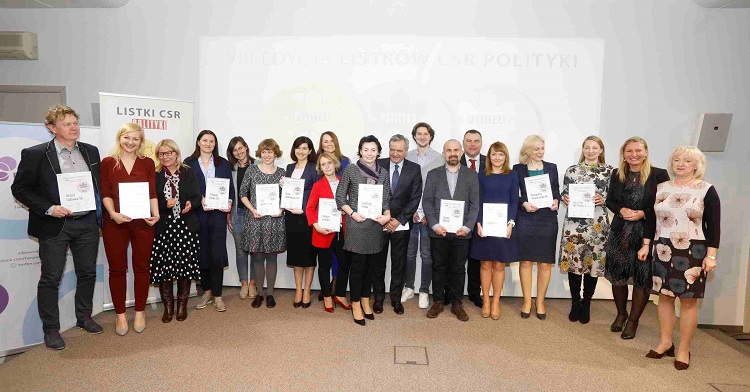 CSR activities are part and parcel of Bank Millennium's business strategy and apply to three main groups: customers, employees and community. The company's priority is to alleviate physical and digital barriers in access to banking and non-banking (e.g. e-administration) services. Bank Millennium is not only dedicated to developing mobile solutions, which enable use of financial services anywhere and any time, but also adapts its services to the needs of persons with disabilities. The improvements concern easier access to branches, cash machines, telephone service, website as well as service method. 100% of our cash machines and more than 70% branches are adapted to requirements of persons with disabilities. CSR programmes carried out for employees involve first of all supporting diversity in the workplace (Bank Millennium is a signatory of the Diversity Charter), assuring stable and attractive employment terms and conditions as well as offering opportunities to engage in social activities. Community programmes are largely implemented via Bank Millennium Foundation and focus on two areas: financial education and employee volunteering The company also supports UN Sustainable Development Goals. Joining the business and government administration partnership for attaining these Goals, Bank Millennium declared it would undertake activities especially as regards financial education of children and the youth. This goal is attained by means of carrying out the Financial ABCs kindergarten children financial education programme, which has already trained 33,000 children. Since 13 years ago all CSR actions are recapitulated every year in Bank Millennium's Corporate Social Responsibility Report: https://raportroczny.bankmillennium.pl/2018/pl/
Polityka's CSR Silver Leaf is awarded to companies, which in their daily activity declare compliance with all key solutions of the ISO 26000 standard. The standard relates to seven areas: Organizational governance, Human rights, Labour practices, The environment, Fair operating practices, Consumer issues as well as Community involvement and development. These companies rely on the best local and global practice. Additionally they have an ethics management system as well as highest personnel management standards. They inform stakeholders regularly about results of their actions.